Building A Modern Workplace With Microsoft 365
Empower your team to work together, creatively and securely.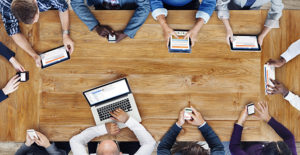 The modern workplace is evolving with remote teams, experimental business models, complex security issues, global consumers, fierce competition, inspiring employees, engaging customers, optimizing operations, upgrading products, services, and business models. All this and more has become a regular feature for organizations to improve business productivity. To follow in the right track, you will require the right digital tools that connect and support.
Microsoft brings a bundle of products together which comprises of smart operating systems, enterprise-grade security tools, and seamlessly integrated business productivity apps. Also, it offers your company solutions and experiences to add value to your employees and customers.
78% of senior executives believe fostering a modern workplace strategy is essential
Only 31% think their company is forward-looking enough to do so
Let's learn how Microsoft 365 can power your modern workplace:
Enhance Collaboration
With group chats, channel collaborations, online meetings and web conferencing functions; Microsoft Teams get everyone on the same page. Sync, store and share work files from any device or platform in real-time.
Improve Security and Privacy
Retain full control of your data as Microsoft 365 is capable of disrupting even highly complex threats. It protects against spam and viruses coming through email and other sophisticated malware. It also helps protect against data leaks by blocking users from sharing sensitive information such as credit card number. In addition, it has features to restrict copying and saving critical personal information for your business.
Maximize Business Productivity
Businesses currently have employees across different locations and working on different devices. Microsoft allows you to install Office products on up to 5 devices for each users. These devices could be PCs, Macs, tablets, or phones. Therefore, this will allow business productivity in your team.
Stay Updated
Manage and share files within using Onedrive and Teams. In addition to that, get seamless access to documents and get the right information quickly with SharePoint's built-in enterprise search.
Empower Employees
Equip workforce with the full office suite to help employees perform more efficiently, and work from their chosen device and location without provoking security threats to your organization.
Serve Your Customers Better
With 24×7 access to work applications, data and email services, it'll significantly boost customer response time adding to customer satisfaction.
Different Packages For Your Different Needs
Microsoft 365 offers a range of different packages, designed to fit organizations' specific needs. Together with additional Microsoft applications, you can make sure you build a customized powerful infrastructure for your business.
Our focus is to remove complexity by offering services that enable your employees to take advantage of business productivity improvements in your modern workplace.
To discuss how Microsoft 365 can help your businesses rise to the challenge, connect now.